They say great couples look alike. I say soulmates dress alike.
I'm not a big fan of Valentine's day since I firmly believe we have to celebrate love every day however it's a day that life partners are in the spotlight.
Spending a lot of time in one of the most romantic cities in the world, Florence has so much inspiration to offer. And Pitti iconic couples definitely know it.
Therefore, love and style were embraced at their best at the latest Pitti 101 and here are some of my favourite duos we saw in our annual menswear date trade show but also around the streets of this impeccable city.
Angel is wearing Walker Slater suit, Mayser cap & scarf, Herring shoes, Loro Piana turtleneck, Bresciani socks.
Gui is wearing Cruciani cashmere cardigan, Camessi shirt, Gaziano &  Girling shoes, Walker Slater pants & vest, Stetson cap, Camessi shirt
What is your main profession
Gui: Professional husband
Angel: Queen
What do you love about Pitti
Gui: First of all, I love Florence… I proposed to my wife there. Pitti is the menswear Mecca, so I had to be there. Pitti is great for our business.
Angel: It is a great place to meet up with the people we communicate with throughout the year, from around the world.
How would you describe your style?
Gui: I'm a French Britailian, gentleman farmer with an American twist.
Angel: A modern take on vintage styles inspired by the eras between 1930s-1950s
Where do you get inspiration from;
Gui: My favourite era in men's fashion is from the 1930s.
Angel: My husband and old Hollywood movies.
What would you like to see in people's style more;
Gui: Classic styles with an interesting twist.
Angel: I would like to see people making an effort to blend textures, styles, and colours in a way that flatters their silhouette.
What is the secret to a life partner?
Gui: I treat my wife like she is a queen, and I am her servant.
Angel: I love him and am his biggest fan. I also value his approval/disapproval which influences the choices I make.
Who is your favorite tailor?
Gui: Sartoria Francesco Guida
Angel: I don't go to tailors. I do have various brands I adore that make outfits for me such as those found on my Instagram.
What is your favorite Instagram account from Pitti?
Gui: @the_angelique_noire
Angel: @gui_bo
Photographer @thestoryalist
Angel is wearing bespoke leather trench coat by Chapal, turtleneck by Ralph Lauren, Pants by Camessi, Herring shoes.
Gui is wearing Bespoke fly jacket by Chapal, Camessi pants, Kangol vintage cap, Ascot by Walker Slater, shoes by Carmina.
Andy is wearing Overcoat by Eduardo de Simone, Suit and shirt by Divij Bespoke, Shoes by Edward Green, Scarf by Begg & Co., Tie by H.N. White, Hat by Optimo Hats
Michele is wearing Cape by Burberry, Suit and shirt by Caroline Andrew, Shoes by Soul Shoes (but might be Stuart Weitzmann), Gloves by Madova, Florence, Bag by Radley London, Sunglasses by RayBan
What is your main profession?
Andrew: I am a software development manager for Apple.
Michèle: is Certified Meeting Planning and is Director of Corporate Events and Programs at a cybersecurity startup.
What do you love about Pitti?
Andrew: For me, Pitti is all about the people. We've met and become friends with so many people at Pitti. I've had no other experience quite like it. Our friends are why we keep coming back. Oh, and it's in Florence!
Michèle: The people. Connecting with friends and making new friends (such as yourself). And I appreciate seeing everybody's unique styles.
How would you describe your style? 
Andrew: I hope my style could be described as classically English and elegant. I also enjoy experimenting with my clothes, to a certain extent. I don't have to dress a certain way for work, for example, so I can wear things that people in a more corporate setting might not. I also love to wear a dinner jacket.
Michèle: My goal is to look timeless and elegant. I try to incorporate separate pieces into my style. I almost always wear a skirt, usually a pencil skirt, and heels in my everyday looks. Andrew encourages me to explore different ideas, and working with Caroline Andrew, in London, has led to me wearing one or two suits and blazer dresses, for example. I try to look feminine, professional, and elegant.
Where do you get inspiration from;
Andrew: I draw inspiration from movies (Casablanca, The Thin Man), and stars like Cary Grant, Fred Astaire, and Humphrey Bogart. Lawrence Fellows, the great menswear illustrator for Apparel Arts is an inspiration. There are also real-life people that I draw some inspiration from, such as Andreas Klow, Henrik Hjerl, and others. I shamelessly plagiarize if I see a look that I like.
Michèle: Unlike Andrew, I don't think I have any specific inspirations. I think being confident in one's clothes is vital, and I think I know what types of clothes suit me and that I can feel confident wearing. Equally, there are clothes that might look good on others, but which I simply would not or could not wear. Knowing which is an important lesson we all have to learn.
What would you like to see in people's style more;
Andrew: I don't think it's for me to say. I try not to be prescriptive, which is an easy trap to fall into. If I were to wish for one thing, it would be for people, anyone, really, to wear things that make them happy. Our clothes tell a story. They tell the world about how we want to appear that particular day.
But, one thing I would hope would improve, is when you see a couple out for the evening and the woman has clearly made an effort. She is nicely dressed and has clearly gone to some trouble to look nice. Her companion, on the other hand, might be wearing jeans, a t-shirt or untucked shirt, and sneakers. He does not match her and looks like he just dragged himself off the couch. This is something that one sees quite frequently and I don't understand it. To not match the effort that one's companion puts into her appearance seem to me to be disrespectful, even rude.
Michèle:I think a person's style choices are their own and it's not for me to say!
What is the secret to find a life partner?
Andrew: Infinite patience. Truly, though, I wish I knew. I am incredibly lucky that Michèle puts up with me. We have a connection that I cannot describe, but which I felt from almost the first moment we met. She is my best friend and in a very real sense, she saved my life.
Michèle: Find someone whose company never gets old. Someone that you laugh with every day or who you can sit quietly with and say nothing at all. Someone that you want to share your thoughts and feelings with. Someone who listens, someone who lets you be you and encourages you and lets you know they have your back. But when you find that someone, you will know it is different than all other relationships you've ever had.
What is your favorite tailor;
Andrew: Each tailor has different strengths, things they do well. It's difficult to identify a favorite. The tailor I use most used to be called Hemrajani Brothers, but the business has now passed to the next generation and is known as Divij Bespoke, out of Costa Mesa, California.
Michèle:: My only tailor is Caroline Andrew, of London.
What is your favourite Instagram account from Pitti;
Andrew: There are too many to choose from. And a list would simply be a list of my friends. But I'll highlight the account of Peter Zottolo, @urbancomposition. Peter is a chameleon and everything he tries works so well. It's really annoying!
Michèle: As Andrew says, there are so many great accounts. I follow photographers, enthusiasts like us, and people in the trade. Luke Alland's @theexiledbrit has a great eye.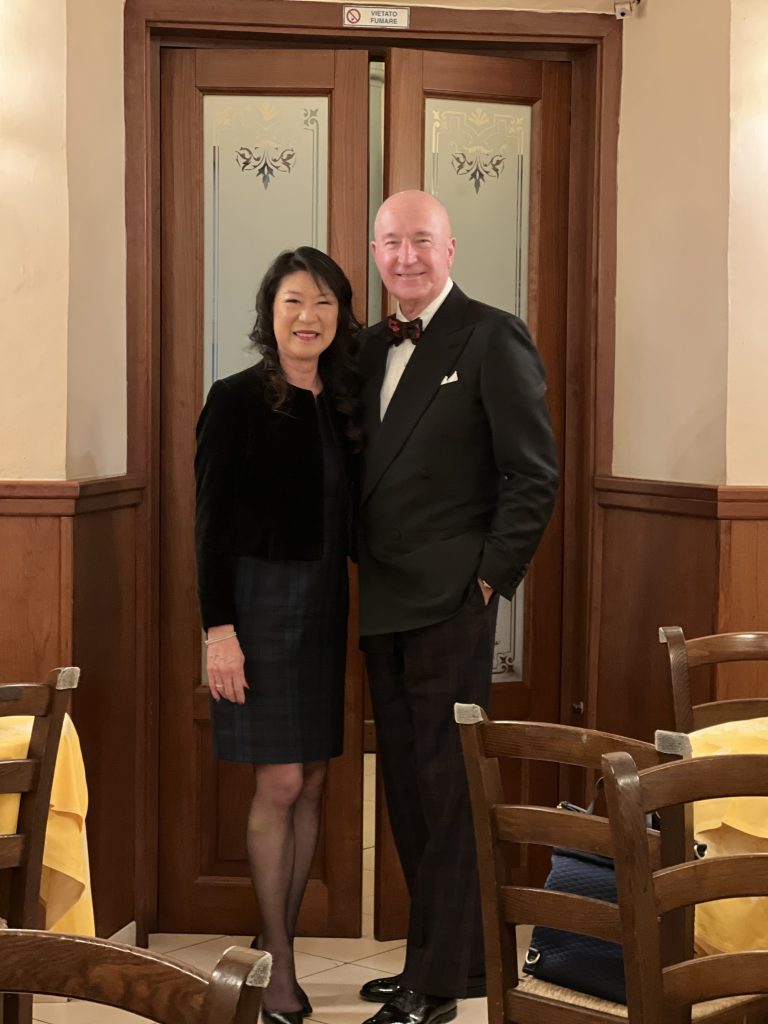 Andrew is wearing Dinner jacket and trousers by Divij Bespoke, Short by Budd Shirtmakers, Tie by Le Noeud Papillon, Studs and cufflinks by Longmire Cufflinks, Pocket square by Simonnot-Godard
Shoes by Brooks Brothers
Michèle is wearing Dress and jacket by Caroline Andrew, Shoes by Jimmy Choo
Photographer: Alexandru_leteanu.
Denise is wearing: A herringbone cashmere coat by Sarotria Crimi, in Cerruti fabric (this is actually Sara's coat). Ecru white 3 piece suits, jackets/waistcoat by Sartoria Yuki Inoue, trousers by Pommella Napoli, fabric from Zegna. Borsalino fedora with Italian tri color headband, silk/wool double side scarf by the purple seal. Shoes from Acme shoemaker, bags from Furla.
Sara is wearing: a military archive ulster coat by Sartoria Yuki Inoue (this is actually my coat, we swapped that day). Trousers by Pommella in the same fabric, shoes from santoni, double side scarf from Serafine silk
What is your main profession?
Dennise: Trained as a journalist but step into digital growth & eCommerce purely for my own interest. I help global businesses to sell things digitally, including designer dresses, sunglasses, shampoo, sneakers, cars, among others. Now I am in coffee. Currently, I hold the position of Chief Growth Officer for Vuna Origin Consulting & co-founder for Vuna Coffee Rituals.
Sara: I work in the sustainable coffee value chain. Lived and worked in East Africa for 8 years, then moved to Portland Oregon to work as the global supply chain director for a green coffee importer. Currently, I am the Chief Executive Officer of Vuna Origin Consulting and co-founder of Vuna Coffee Rituals.
What do you love about Pitti
Dennise: the social aspect of the event, serves as a community festival is the main attraction. I have only been to Pitti twice and this is something that I didn't expect before I came here. Hence, I see the potential of using Pitti as a springboard to promote women's participation in classic menswear Besides that, it is wonderful to see what's gonna be popular for the next seasons.
Sara: to be honest, I was at Pitti because Dennise was there. I found the event very international, meeting people from all over the world that I wouldn't have met. This is a great surprise, it reminds me of the fun days before COVID (I used to travel 4 months out of a year for work, so I miss that a lot).
How would you describe your style? 
Denise: I have two styling directions. Classic Italian style for the suit look, with my own touch of addiction to fabric (e.g. solaro, tobacco linen, 4-ply worsted wool, vintage flannel, British tweed), or a modern approach to incorporate tailoring pieces with jeans, workwear and sneakers. Being a woman, I don't follow the route of navy, grey, and brown as the menswear uniform. I always like my suit to have personality and I am a big fan of the double-breasted style. In Amsterdam, I tend to wear tailoring pieces with a more modern style, such as sneakers, jeans, docker/baseball cap due to the active living style (we do everything on a bike) and the weather. I enjoy having this mix and believe that's the attitude to keep tailoring clothes alive.
Sara: I like to wear my tailoring pieces in separates. I don't own a full suit and don't see that being a must-have. Being an Italian and having lived in the UK for a while, I am not afraid of colour and like to match them with seasonality. For instance, my first bespoke jacket is in purple Shetland tweed and it is very me. My UK days make me appreciate classic British style items such as Barbour and raglan coats. Unlike Dennise, who is in love with double-breasted style, I am more balance between double breasted and single-breasted items. We both love safari jackets for their versatility.
Where do you get inspiration from;
Dennise: instagram is the primary source, street fashion, and vintage magazines. For instance, my new 4×1 ecru white suit is inspired by 80s Armani.
Sara: I love people matching, especially in big cities like Milano, Roma, Berlin, London, NYC, etc. There is elegance and inspiration everywhere, across all the  generations.
What would you like to see in people's style more;
Dennise: mixing tailoring and modern pieces, such as sneaker and jeans, break the stereotype that classic menswear lives in an old fashioned vacuum. Next to that, is to explore which fabric can be combined together to suit the wearer's condition. For instance, why not linen with flannel?
Sara: I would like to see people appreciate and understand what a good fit is. It is not about label or price, a good fit is a balance that we want to achieve. Once it is there, it automatically adds 10 extra point to the outfit. Also, embrace bright colours! Experiment with purple, yellow, green, orange, it could be very fun.
What is the secret to find a life partner?
Dennise: grow together while maintaining each other's own hobbies. Stay curious about each other, don't assume you know it all.
Sara: always find a way to laugh and enjoy the moments together. Even when things get tough, have the patience to find a bright side in the darkest moment.
What is your favorite tailor;
Dennise: can't say I have a favorite, I appreciate different tailors bringing different styles to inspire me. From Milano (Sartoria Yuki Inoue, Vestificio) Firenze (Sartoria Corcos), Napoli (Sartoria Ciardi, Marco Cerrato, Pommella) and Parlemo (Sartoria Crimi), there is a lot that I am still learning. With that said,  I am more leaning toward to italian tailoring style for sure.
Sara: I am certainly heavily leaning on Dennise's suggestions for tailors. There is a world of artisans and we very much enjoy exploring different styles.
What is your favorite Instagram account from Pitti: 
I always like seeing Pitti from the lens of Erik Mannby/Peter Zottolo for Plaza Uomo; Rikesh for the rake; Steve Gonzalez for no chaser; Robert Spangle, Luke Alland and Kateryna Komar for their individual works; Philippe.tk for his wonderful behind the scene stories. The big surprise for me is Goldie Williams during Pitti 101 (I didn't know him before). Each of them captures Pitti with different angles, and that's extremely cool IMO.
photographer: florence_live_like_locals
Denise is wearing: herringbone cashmere jacket by Sartorial Crimi, in vintage Fratelli tallia di delfino fabric, RTW worsted flannel gurkha from Rubinacci, maroon stripe shirt from 100 hands, foulard from Elizabetta, shoes from Meet the hand boutqiue, made by Edward Green
Sara is wearing: Escorial tweed jacket in peak papel made by Yuki Inoue, fabric is Joshua Ellis and Permanent style collab. Cream/blue OCBD shirt made by 100%, fabric is Permanent style oxford, 21 club worsted flannel trousers, made by Pommella, fabric from Fox brothers. Chocolate brown borsalino fedora, double monk from doucal's
Enrique's and Ksenia's outfits are custom made by Ksenia's brand VESTIUM (https://www.instagram.com/vestiumny/). Enrique is wearing a 3-piece purple suit made with year-round lightweight wool, navy shirt with navy tie, and a custom made deep purple overcoat (cashmere & wool blend); his boots are made with purple croco leather and turquoise shoe laces. Ksenia is wearing a custom made 3-piece suit made with purple&green flannel fabric (cloth by ARISTON); bespoke white casentino overcoat (cloth by Caccioppoli) and black Chelsea boots, all by VESTIUM. Custom made Fedora hat by Cappellificio Biellese 1935.
What is your main profession
Enrique : Architect
Ksenia :  I'm the Founder and Designer at a boutique custom clothing brand VESTIUM (www.vestiumny.com | IG: @vestiumny)
What do you love about Pitti;
Enrique  : getting to meet and bond with great people. and Italy (the food, the culture, and just being there)!
Ksenia: Because I live in New York City, for me to visit Pitti Uomo is a trip to look forward to! Of course, because it's held in the beautiful city of Florence in Italy, I love exploring it, sightseeing and enjoying the local food (and coffee!). And when it is Pitti time, all of Florence is flooded with a great mix of people from all over the world. You can walk into a bar and find a conversation that interests you and you'll be welcomed to join. There's always something going on, and you go from one place to another and meet your old and new friends. At the Fortezza da Basso there are always vendors that prepare innovative collections, cool booth designs, and for me it's inspiring to take all this in. I also love seeing what other brands are doing in terms of fashion and style, and draw parallels between that and what we're creating at my company VESTIUM. If I was asked to give Pitti just one word – I would choose the word 'ENERGY', because it's just everywhere.
How would you describe your style;
Enrique : "Time Travel Proof", at least 150 years in either direction. Pitti is a chance to show a little more of one's extravagant side, but outside of Pitti I like to think that my style is personal and true to myself but classic and universal, in other words, I like to feel comfortable or adaptable to any situation. From a board room, to a construction site, to a dive bar, to a galla, I can always make it work and not look or feel out of place.
Ksenia : I'd say it's CLASSIC CHIC 😉 I do draw a lot of inspiration from a classic men's and women's style, classic tailoring, but I also love to mix styles and make it my own. I tend to follow my mood in the morning when I open my closet. One day I might wear a three-piece suit with a tie, the cuff links with a nice pair of Chelsea boots or brogues, and tie my hair in a ponytail for a total boss-bitch look
And the other day I might want to switch things up and go for a suit with a t-shirt and sneakers for a more sporty look. But also, my style changes as I grow as a tailoring professional myself and I'm OK with that. Your style should represent who you are at the moment, and you wouldn't expect to stay the same and not grow as a human being – so why should your style stay the same in 1-3-5-10 years? But that's also why I love classic tailoring – it never goes out of style;) You can accessorize it differently or maybe go for a bolder pattern instead of a plain suit but the basics are the same, and I love helping my clients understand this and work with them to discover their style with our custom tailored clothing.
Where do you get inspiration from;
Enrique : My wife.
Ksenia : From everything! I consider myself a happy person overall and I can get inspired by the morning sun and a delicious cup of coffee 🙂 But as a business owner running a company I tend to take on too much on my plate and after some time of intense work and busy schedule – I just need to escape. So I travel, even if it's just the long weekend, and I don't mind going on my own, I always have fun in my company of one . But that's why I adore my husband and my friends who are always up for a trip. I've also been exploring meditation as a way to connect with my inner world and I easily get ideas from those moments of silence. I also love to walk around Manhattan, pop into stores like Ralph Lauren and Tom Ford (my go-to's), but mostly I love looking at the window displays of famous brands – it's a whole art what they do with them here in New York City!
What would you like to see in people's style more;
Enrique : On one end, less "branding" or insecure displays of "success". On the other end, just give a damn. even if it's just jeans and a t-shirt, you can tell when someone doesn't care, and that tells a story. And that's not to be judgemental, or elitist, or uncompassionate, it's to say that we all have a responsibilty to love ourselves and be kind to ourselves.
Ksenia : You might call me biased but I do think that people should stop this nonsense with wearing yoga pants and sweatpants everywhere. You see it in NY a lot and it bothers me. I've seen in my personal and professional careers how much my style impacted people's perception of me, and I don't think I would've gotten this far in life if I wore sweatpants during the day or if I didn't invest in my presence. That's why I do what I do – being well dressed DOES matter, and we constantly see our clients get more successful in dating, they get married, they get promotions, they get big contracts and so on. I think everyone should own a crisp white dress shirt (or a nice knitwear) and a well-fitted sports jacket (ideally – a suit) if they want to be taken seriously in life. Love me or hate me but it's the truth!
What is the secret to find a life partner
Enrique: Agree on the big picture. Laugh a lot together. And always be on the same side, even when you are arguing.
Ksenia : Go on a road trip with them very early in your relationship! You'll learn everything about each other and by the end of it you'll either fall in love or you won't be able to look at each other again – but at least you'll know if you're compatible early on! This is what happened with me and my husband! 😉 But seriously, for me it is a HUGE deal that my husband finds interest in what I do and he's involved in my business. My husband is very emotionally intelligent and he gets my moods and he understands me even if I'm having a hard time explaining myself (which happens often – women!). I do feel lucky to have him by my side 🙂 And I'm trying to be a good wife to him and also invest my time in what he's passionate about like architecture and music.
What is your favorite tailor;
Enrique: My favorite clothier, obviously, is my wife Ksenia :), and so my favorite tailors would have to be the incredible team she has put together at Vestium.
Ksenia: Because I don't sew myself I can't name me. Actually, recently I started to follow more closely some of the British women tailors and I must say they're amongst my favorites now! Caroline Andrew, Phoebe Gormley and Daisy Knatchbull just to name a few.
What is your favorite Instagram account from Pitti; 
Enrique: @niccocesari, I got to meet and really bond with Niccolo and his wife Eva during Pitti. They are just such an amazing power couple and wonderful role models for having a lasting relationship and a loving family. Nicollo really inspired me to start showing off more of my own personal style on my Instagram. They showed me that you can have a great personal life and a career outside of Instagram and still have this fun creative outlet to engage with and get excited about.
Ksenia: I love so many accounts and can't name all of them but I wanted to spotlight a few of my friends who have been posting non-stop during Pitti and, let me tell you, it takes a lot of effort and dedication! Niccolo https://instagram.com/niccocesari, Dennise https://instagram.com/women_in_tailoring , Andy https://instagram.com/styleafter50. A few others that inspire me always are @gui_bo, https://instagram.com/giorgiogiangiulio, https://instagram.com/lady_elviah and many others!
All outfits were custom made by VESTIUM (
www.vestiumny.com
). Enrique is wearing a three-piece blue suit with a baby pink shirt and a black tie, and a light grey wool & cashmere overcoat. Ksenia is wearing a 3-piece navy suit with gold windowpane and a bespoke overcoat (fabric by ARISTON). Her Alpaca cap by Cappellificio Biellese 1935.
photograher: @frank_portraits 
Both in @tacs_panno_casentino
What is your main profession;
Eva: I'm client advisor for Gucci and brand ambassador
Nicco: Area manager for fruit juices company
brand ambassador and model
What do you love about Pitti;
Eva :see my city Florence full of movement and beautiful well dressed people
Nicco :international elegance in Florence
How would you describe your style;
Eva:I Would say my style is "double face"I love wearing men 's clothes buy also super feminine clothes
Nicco :classic style with a touch of personality
Where do you get inspiration from;
Eva: from the modo of the day.I look in the mirror and I decide in the outfit of the day
Nicco :I look for from the style of the past
What would you like to see in people's style more;
Eva :elegance and harmony of the colors
Nicco :the Details of the look
What is the secret to find a life partner
Eva & Nicco : Have common passions, buy also indipendent spaces.
What is your favorite tailor;
Eva :Armani,Valentino Ysl
Nicco :Liverano from Florence
What is your favorite Instagram account from pitti; 
Eva :@leonida
Nicco :@carlos_domord
photographer : @photographer_lucy
Nicco is wearing @tombolini_official