Jasmine is a former political events executive who has organised events for charities, commercial and political clients. She developed an interest in behavioural science while working for the data analytics firm, Cambridge Analytica.
Patrick "turns minds into money", taking academic research and experimentation and practically applying it, for both business and politics.
He is the author of #Hooked Why cute sells… and other marketing magic we just can't resist and co-authored peer-reviewed papers on topics ranging from facial expressions to Facebook.
From an academic perspective, Patrick lectures part-time at multiple London universities; he has also acted as a media commentator for a number of outlets. Commercially Patrick has worked across a number of brands and industries providing psychological insight. Patrick was Lead Psychologist at Cambridge Analytica for eight months until the company went into administration.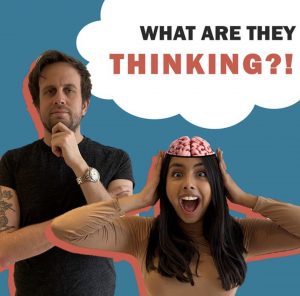 They are a newly wedding couple who met at the company and apart from that they are the hosts of 'What Are They Thinking' a behavioural science podcast that seeks to entertain and inform listeners on the psychological insights that brands, businesses, the media use to capture our attention. This podcast sheds light on the inner workings of various industries that use behavioural science to influence our decision making and you can find it on Spotify.
On this Lifestyle insights podcast, they shared with me their thoughts and research about behavioural fashion.